Practice at FREMO-North America meetings
A lot of additional informations about the practice at meetings can be found inside this part of the FREMO-North America Standard.
Single track module profiles
Flat-Profil without road bed, used within Southwest Division, East Division and Maple Leaf Division for branchlines and with a joker module in conjunction with NAI.
Multiple Track Module Profiles
M-Profil, used within East Coast Division
Valley tripple track, basically the same as the double track Valley profile with a widened track bed, used within the East Coast Division
Flat30 with road bed, used within Southwest Division
Flat30 without road bed, used within Southwest Division
Legs
Standard for the classic Valley modules are wooden legs. They consist of 2 pieces of dimensional lumber, connected with plywood strips 400mm (15.75") wide. Please refer to the drawings for details. (All dimensions shown in millimeters) A height-adjustable foot is not required.
With the advent of the modern flat profiles new styles of legs appeared also. Depending of the size of the module two or four single posts out of aluminium or wood are clamped to the module itself. This systems enables a faster setup of the module.
A leg fixing built from scratch was introduced by the Southwest Division. The parts are a holder made out of plywood, a recessed nut, a winged screw and the leg itself.
A complete how to in German language can be found at the Southwest Division part in fremo-net.
Another solution with legs made out of wood was developed by Rüdiger Bäcker. He uses hinges and cabinet magnets to fix the legs to the module.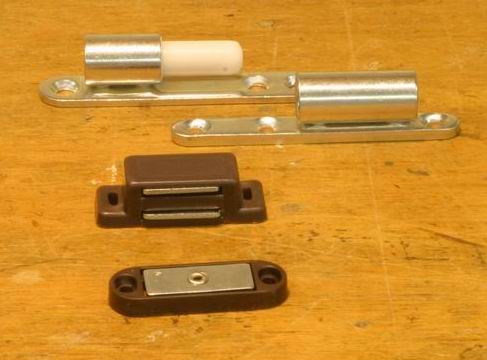 A complete how to in German language can be found at modellbahn-online.de.
A list of ready available leg holders can be found at the materials page.
Locomotives and Rolling Stock
The use of knuckle couplers is mandatory for all vehicles. Recommended is the use of metal couplers like Kadee #5 or #58 and cousins. The wheelsets have to be in gauge. The distance between the wheels back-to-back ranges from 14,4mm to 14,6mm. Back-to-back distance for code88 wheelsets is 14,6mm with a tolerance of +0,2mm. The car weights are based on the specifications of the NMRA. Converted to European dimensions each car has a basic weight of 30g with an additional weight of 6g for every inch of length.
The locomotives are operated using DCC. Within each decoder should the analogue mode be turned off (CV29, Bit2= 0). The loudness of sound equipped locomotives have to be dimmed to a low level. Rule of thumb is to hear a sound loco at a maximum distance of 2 meters.
230 V wiring
It is mandatory to follow the FREMO rules about 230 V wiring which can be found inside the fremo-net.
Instructions for module drawing: